"What Have I Got to Do with Easter?!"

It's amazing how we use hard-boiled eggs to represent life and resurrection for Easter. I've never quite caught the vision for the parallel. It has always seemed an image pushed too hard, an attempt at Christianizing a symbol taken too far. After all, hard-boiled eggs? Really? Whatever might have grown in there is dead. Really.
It wasn't until I actually got chicks that this idea began to make sense. I've been researching about chicks and chickens a lot lately. I don't know if mine will be hens or roosters; I don't even know really how old they are. I looked at photos and drawings of the various stages of growth and gender traits. This is where I found "candling". This is how breeders tell if an egg is fertilized or not, by whether various certain details show up in the egg when a bright light is shined through it.
And while I've always known eggs carried chicks, I caught some of the enthusiasm for the coming life that eggs can be anticipatory of. As I imagined my own chickens laying eggs some day and how each of them came from an egg of their own, I saw how an egg could be a symbol of life. It became more real to me. That said... I love Easter.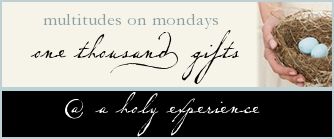 153. The propane truck's ice cream song warbled with the call to prayer-makes me laugh!




154. Life is not an emergency.




155. Watercoloring with Laurel and her painting of a yellow umbrella




156. Funny Boggle words




157. Beautiful bagels in the oven




158. Borrowed eggs




159. Meeting new people in my cleaning clothes




160. Sunbeams revealed through orange dusty air




161. The smell of rain and the sound of rain on a covered football stadium




162. An orange and yellow sunbeam quilt with the word "Hope"




163. A little girl with her head on daddy's shoulder and wrapped in his arms




164. A deep Scottish voice leading songs on Easter




165. Man in jili kurdi, with guitar and sunglasses... a traditional "rockstar"




166. Young charismatic Kurdish man preaches and is translated by conservative middle-aged reserved Scottish man




167. Christ is risen and gives us new life




168. The glint of sun off of jili kurdi pants, orange, white, pink, silver...




169. The seed of woman is not limited to biologically birthed children