We all know that we go through phases in life. Some of these phases are determined by our likes or dislikes: a cooking phase, a stamping phase, the phase we went through in 5th grade where we only wore pink. (Most fifth grade girls have a pink phase... even in the Middle East!) Other phases are a little more out of our control. They can look the same, like my sister's phase of wearing pink that came not of her own desire but because all the hand-me-downs were that color. (Sadly, she hated pink and still does.) Others that fall in this category are phases of frugality or wealth, phases of business or more rest, singleness, motherhood, or retirement.
I am beginning a new phase. This is the phase of being alone. I've had phases like this before. One of the best things about phases is that you know they won't last forever. Nearly all of my close friends and housemates have left the country. It happens when you live overseas... people go back to their home country or they move on somewhere else. But when all leave at once it can leave you feeling a bit at a loss. There is loss. And in a life with much work and few believers it can be hard to find that friendship and fellowship that fits into the rest of life.
I am thankful for this phase of alone. I should be able to spend more time reading and doing language study. And I'd like to spend more time in prayer as well. I have high hopes.
And as one of my students so aptly reminded me... God is not a phase. Christianity is not a phase.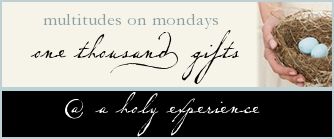 170. Drenching rain with my sister and one last lightning storm together
171. Giggling past 1am
172. Choking tears of finality
173. Buying a basketball rim
174. A successful Kurdish phone call
175. Leveled benches
176. Laughing over dishwashers and tea-bags
177. Coconut-milk in the refrigerator section
178. Laurel's visit and all the games and backrubs
179. Giving my students something to be thankful about
180. Student saying, "Oh yeah, he's cool." in reference to God
181. Listening to a French Quartet perform live
182. Bad acoustics
183. Plucked violins and cellos
184. People who say hello, good bye, good morning, good night, and thank you
185. Little chicken feathers and stretching wings
186. Nursing mothers
187. Fellowship
188. Spontaneous hairspray adventures
189. Praying during the call to prayer
190. The Iranian woman... and her story translated through
191. Fruit that looks like it is glowing